Today we left my parents' house, said goodbye to the grandparents and travelled toward our destination in Scotland.  As seems to be the usual case, packing took significantly longer than I'd expected (hoped?) but we got on the road only 4 hours later than planned.
Our friend Melissa brought us to the airport in Washington, D.C.  We'd originally wanted to meet Melissa halfway between Williamsburg and Washington, but she was gracious enough to come all the way down to get us so I could finish packing. It was nice to catch up with her since seeing her last in Monterey, CA.
Since we're going to a cold(ish) climate, and our plan is to be there for a while, we ended up with one suitcase more than when we went to Costa Rica.
We flew British Airways and I slept most of the way, but the kids hardly slept.  Zippy was "extremely uncomfortable" and I think Adam was too excited.  He really liked that they gave a packet of kid activities to keep him occupied.  Both kids really enjoyed the vegetarian meals they were served (and I slept through).
We were picked up at the airport by our friend Ruth, who I met through our mutual participation in Tony Robbins work, and mutual interest in travel.  Ruth has been to 29 countries! She navigated the rails and busses with us and our luggage back to her flat where we refreshed ourselves with smoothies and crumpets.  Zippy and I took much-needed showers.  We showed Ruth some of our pictures from our trip, and Adam promptly fell asleep.  We got to see some of her pictures and movies, too.
Ruth also took us on a tour of the high street in Putney to orient us to British stores and brands.  She deeply corrupted us by sharing her Jaffa cakes with us, which, apparently, once you had one, you have to consume the entire box.  They're a curious combination of a light cookie, jam and chocolate that end up being really yummy.
Ruth is a lawyer and is looking for work, in the US especially, to leverage all her international business experience.

Next we went to see our friend Alex, who used to work with me at Sun and in other endeavours.  He cooked us a lovely dinner, which we'll be sure to make for ourselves another time.  He was also kind enough to arrange a mobile phone for me so I can be a bit more in contact here.
Our last stop in London was couchsurfing with Armin.  He lives very near to Gatwick, from where we're flying to Scotland.  The kids went to bed almost right away and Armin introduced me to a bit of British culture via the Top Gear TV show.  He was even generous enough to drive us to the airport in the morning.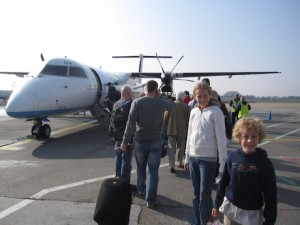 We got on this plane and arrived in Scotland a short time later.