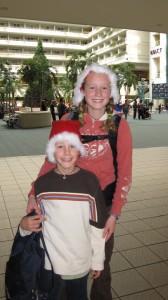 After 10 days of being apart, the children and I are together again near Orlando, Florida.  I had driven down to Florida to be volunteer crew at a Tony Robbins workshop in Orlando, and Zippy & Adam stayed at my parents' house in Williamsburg, VA.  It was the longest I'd been away from them for many years, and we both missed each other very much.  We each had a fun time, though, which I will blog about separately.
In a big step in responsibility, they flew by themselves from Williamsburg to Orlando: not as "unaccompanied minors", but just as regular passengers.  My mother brought them to the gate in Williamsburg, but on the other end I met them at baggage claim. 
Zippy took charge and got all the way through the little train in Orlando and found the baggage claim area.  What fun to see them as such confident travelers!